I am planning on sharing my thoughts on the 2019 Budget and Process in this post. Expect that there will be many updates. This is hands down the most well thought out budget in my time on the City Council. The proposed budget can be found online here:
Here is some information about our new budget process and online budget:
Here is a schedule of our Budget Discussions: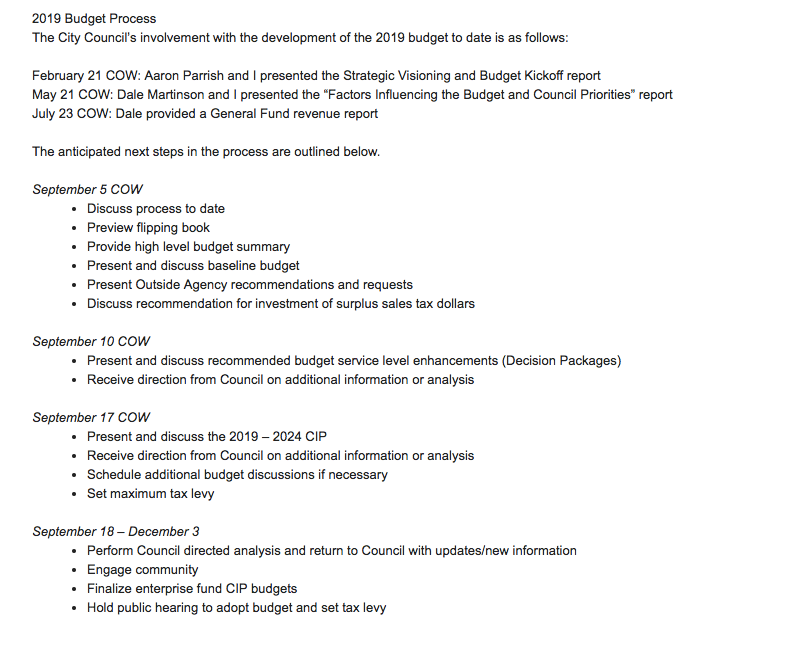 For the first time ever we are getting the budget early enough to have meaningful conversations about our priorities.
The Operating Budget of the city goes from $176.6 million to $184.4 million, an increase of 3.2%. Total Capital Improvements goes from $97.5 million down to $95 million, a decrease of 2.6%. Total Debt Service increases from $9.2 million to $9.9 million, or 7.6%. Overall the budget for the City of Rochester is increasing by 1.4% or well below the rate of inflation.
Because many city revenue sources are frozen or decreasing (especially Minnesota Local Government Aid) a 1.4% increase in the city budget results in an 8.77% increase in the property tax levy. It is also important to know that a portion of that increase is offset because the city is growing and the impact is partially covered by new properties.
The tax levy can be reduce by putting in place some fees which more fairly distribute the costs for some services. Remember that not for profits are exempt from property taxes. Given the dramatic changes to Federal tax law now would be the time to reexamine the relationship between property taxes and fees.