This document was never provided to the City Council, it was leaked to me recently.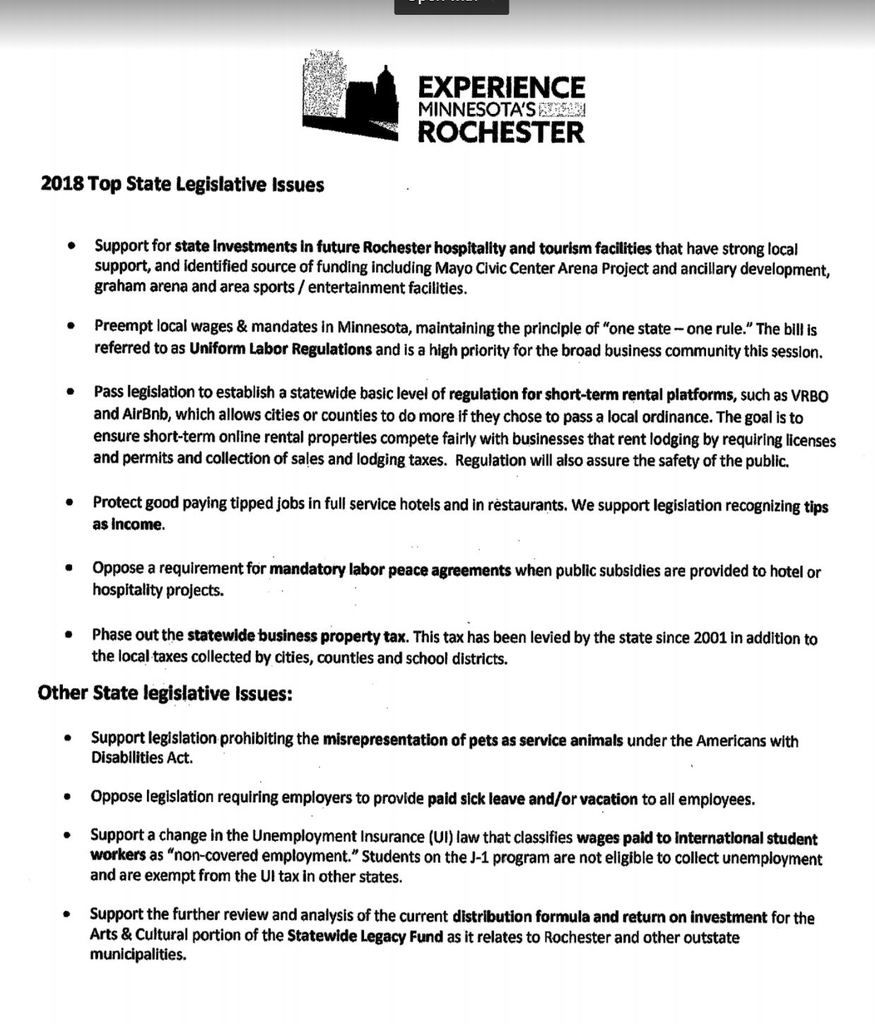 These priorities were not approved by the City of Rochester. Many of these priorities are officially opposed by Rochester via an anti-preemption resolution (and the League of Minnesota Cities). Experience Rochester receives millions in taxpayer funding annually with no public oversight.
We are literally using City of Rochester taxpayer dollars to lobby against the City of Rochester. Randy Staver is on the executive board of this private organization and would have likely approved these lobbying priorities. He also did not share this with the Rochester City Council.
Recently the City Council voted 4-3 to recognize that Staver's dual role on the private board represented a conflict of interest. Unfortunately, this common sense change was vetoed by Ardell Brede and did not have the 5 votes to proceed. I will reintroduce this change on January 7, 2019 with a new Mayor and council.
The ultimate solution to these kind of shenanigans going on behind our back is very simple. Make this organization public, control their funding on an annual basis, pay for performance, and have them overseen by a publicly appointed board.
Here are my specific objections with the Experience Rochester priorities.
The first point may or may not line up with City of Rochester priorities.
The second, third, and eighth points would preempt local authority and are opposed by official City of Rochester action.
The forth point would push a large number of Rochester citizens further into poverty and make our affordable housing crisis worse.
The tenth point could be viewed as a conflict of interest within the Experience Rochester organization as the ED is also the chair of the Greater Rochester Arts & Cultural Trust Board and provides them free taxpayer funded space.
To reiterate my biggest frustration, this is all being done with city taxpayer dollars behind the back of the City Council and Randy Staver is allowing it to continue.