Mea Culpa, No excuses.
The folks of Rochester got some very misleading marketing pieces on private sewer line insurance which makes in look like the City is trying to get people to buy a private product.  I was concerned about this and tried to make sure we got the means to oversee anything that got sent out. In going back and looking at a contract attachment we did leave the door open to this kind of mailer even though we would not have supported it.
This is not a scam and the company is reputable, however there is more than one choice for this service and you choose if you want the product. There have been people that have paid thousands to replace sewer lines, so this may be a good policy for some folks. Randy Staver and staff put in a lot of extra effort to bring this program to Rochester; personally addressing a citizen request. I have no issue criticizing him when appropriate, but in this case the communication that we all thought we were ensuring did not happen. The big picture here is that this is a good option for citizens which was not previously available and Randy should be thanked for that. Sorry for the poor messaging that is as much my fault as anyone's.
Rochester is not trying to force or scare you into purchasing this. Here is the mailer I received and my clarifications: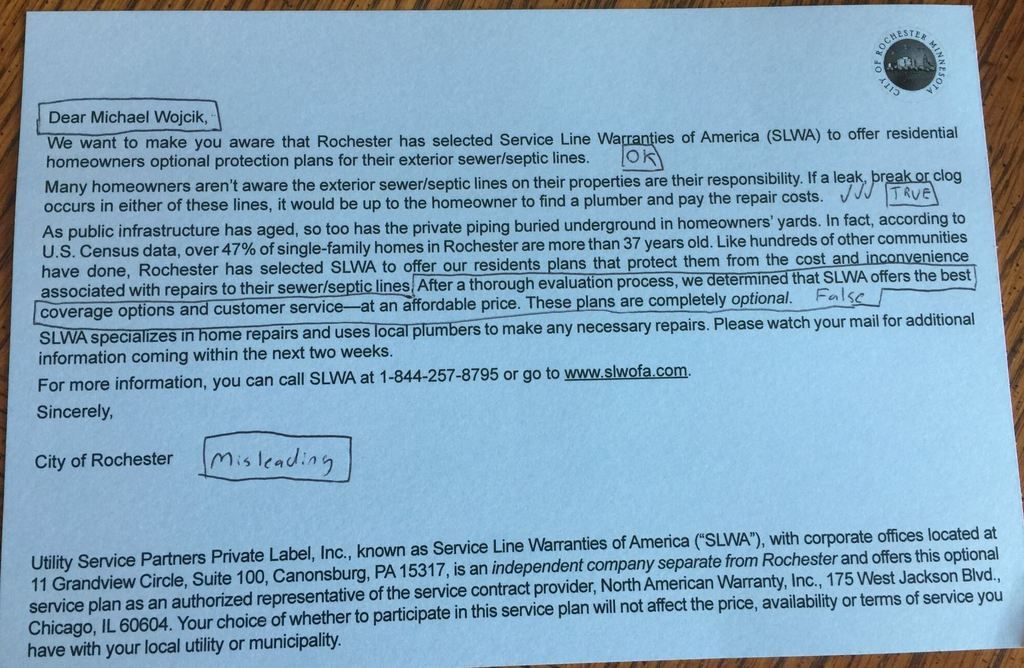 This was addressed to me, my wife is an equal partner and this is an immediate turnoff. I am not sure where the company got the list of names, but in a number of ways this was dated. I have heard of owners from a decade ago being named.
We did partner with SLWA to make this service available, however there was no "evaluation process." This is false, the company is a partner to the National League of Cities.
The fact that this is signed from the City of Rochester is completely inappropriate. We did not send this.
All city logos / seals are actually public domain so anyone can use them. We all actually own them.