Italics indicates more data to come.
So here are a number of concerns about a new arena as part of Mayo Civic Center. I can really break this into two parts, process and direct concerns. I will also lay out some potential positives, but overall remain very skeptical. This post is intended for discussion purposes and as always I welcome feedback. The fact that I am acknowledging benefits does not mean I have sold my soul…
Process Concerns:
City leadership has not asked for a new arena. We met earlier this year and we discussed priorities. Those priorities included moving from an annual budget to to multi-year capital, staffing, and operating budgets. We also prioritized affordable housing and infrastructure maintenance where we currently show an enormous unfunded liability. We really haven't made much progress on any of these. No one even suggested that a new capital facility was a priority.
We don't know how the new Mayo Civic Center is going to perform, but dismal convention and conference bookings for 2019 and on seem to indicate some real reasons for alarm. Almost all convention centers are subsidized as is Mayo Civic Center, but usage for community events is something that I would expect in return and that is still being hashed out. Some of us are currently investigating just how bad thing are.
No city departments are asking for a new arena. Some community engagement pertaining to the new comprehensive plan and overwhelmingly putting substantial of public dollars into a stadium / arena was not supported. Further we just did a parks master plan where a new arena didn't even crack the long term list of priorities.
The idea of an arena was presented to the council 2 years ago and it fell flat on its face. Despite this a tremendous amount of publicly funded time has been devoted to the pursuit. Yet the presentation to the council was lacking in the detailed information that is likely available. Some of which is contained in this post.
This is being presented as time sensitive, but no data explaining the urgency has been shared.
Major capital projects in the city of Rochester should go through a public process that establishes priority. Individual advocacy groups should not preempt council action.
Direct Concerns:
I did some digging and here is what $60 million might look like (source: Rochester Convention & Visitor Bureau):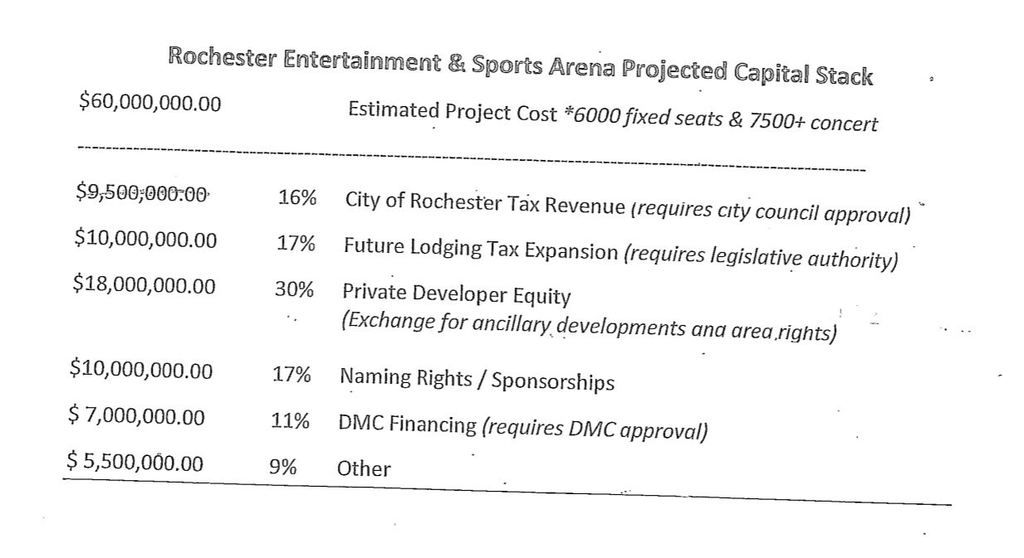 The business case shows public investment, but then quantifies the return, largely to the private sector. A real net impact to city finances is needed. I have begun to look at this, but the arena would likely be a money loser for taxpayers, add to annual tax levy, and if a private entity were taking profit of the top  would be even worse.
Regardless of venue Rochester is unlikely to be able to compete with casinos, college venues, and the Twin Cities for many, if not most events. Often exclusivity clauses will prevent an event in Rochester if it is held in one of these other locations.
$60 million is a huge sum of money. There has been little public discussion as to where this would come from so I did some digging and found this. I did ask the RCVB and this was discussed at one point and there is no update. That data is shown above. There are a number of concerns here.

We can't pay for current essentials so I don't believe we will free up $32 million for an arena.
Can we tear down Taylor arena and build another for $60 million? I doubt it.
I don't believe the public will support a tax increase or new tax for an arena.
I am skeptical that we will get $10 million for naming rights / sponsorship.
I don't believe that DMC will accept this as a priority.
"Other" is vague but I am assuming it is a public contribution and part of the $32 million..
And there there is the 30% "private equity" which raises a host of concerns (see #4)

What are these ancillary development and area rights?

There are only 2 public parcels in the area. One is Mayo Park, the other is the library. RCVB did say Mayo Park is off limits. They have not had discussions with the Library. I say the Library is off limits, and suspect that is not the intent.
This leaves 2 possibilities, building on top of an arena, which is intriguing, but probably not feasible or the development of the Wells Fargo property to the North. We would welcome a development to the North irrespective of an arena. Riverfront in downtown Rochester will sell itself. Not sure what would cause a developer to throw in a $18 million contribution, but if this is using TIF as a funding source, that is NOT private equity.
There is no such thing as a free lunch so what must the city give up to secure the $18 million in private funding?

I am going to add a hypothetical community benefits comparison, but will do that later. In short $32 million buys tremendous park amenities.
I do not want to lose sight of the fact that is grossly inappropriate for an employee of the Convention & Visitor Bureau (or fully funded subsidiary) to be participating in a discussion brought forward by the Convention & Visitor Bureau. I hope the media doesn't suffer a severe neck strain looking the other way.
Potential Positives:
Taylor Arena is not loved by anyone. The facility is functionally obsolete and frankly has been since a poor design was selected. One of my favorite parts of the latest expansion is that it hides the awful appearance of Taylor Arena (from the East, anyway). The venue functions for some events, but those events are unlikely to grow.
As an amenity, I suspect I would be a frequent user. I enjoy USHL hockey and would probably have season passes. Not sure if we actually would ever see an NBA development league team, but some would enjoy that. While I am skeptical that we would get many more shows, we would have better facilities for them.
Assuming the project did not encroach into Mayo Park, it could be an amenity for Mayo park and help with passive safety measures.
I don't think a task force should be put in place without understanding how dire the 2018 budget is. It will be bad. After that we should explore the relative interest in devoting time to this, versus other priorities.
That said because I am a skeptic, would ask questions and demand quantifiable data, I would serve on such a committee; if my peers insisted on its creation. My fear is that the task force would be a bunch of fans, the presence of skeptics such as my self would lend it some more credibility. Also any potential task force would need to be subject public data and meeting requirements.
I don't believe we should create a task force until after a broader discussion on priorities is had. I believe affordable housing, broadband access, transit, and the Library are all more deserving of task forces. Any committee should also consider competing projects as well. To give this one suggestion exclusive access and priority would be a huge procedural disservice.
That said we don't have any money and if we did it should first go to needs like parks, infrastructure, housing, and transit.