Edit: Thank you to Mike Anderson for some corrections that I was not aware of. They are in the comments, but I am also adding them at the end of the post.
Here is the story of how the city participated in undoing an environmental mess created outside of the city. Even though the issues were caused by decisions made outside of the city, city taxpayers have contributed $245,000 to the joint effort to address flooding and erosion on cascade creek. A total of 3 major projects are planned for this area. Two projects are upstream and were aimed at reducing peak flood conditions. Based on heavy rain falls this year they appear to be quite effective.
Stream Reconstruction:
The 3rd and most significant, a complete reconstruction of the stream through the former Meadow Lakes Golf Course (recently annexed into the city). This project will return the natural winds in the stream and stabilize the banks. Previous erosion has contributed to sedimentation in Interlachen Lake (private) and to a lesser extent Manorwoods Lake (public and private mix). Both of these lakes have a fundamental design flaw that they were built with the stream passing through them. This coupled with the poor land use up stream has created a prolonged sedimentation issue. This stabilization project issue should greatly reduce the ongoing sedimentation issue. Cascade lake (public) was design to be spring fed and then drain into the creek so as to avoid sedimentation / pollution issues.
Here is a before image of how the stream ran through the golf course. The section what was straightened was particularly bad for erosion.
Creation of 40 new acres of parkland:
Here is an image of what the stream bank will look like after reconstruction. The area shown here will have a 40 acre easement what will effectively serve as future parkland. I would expect to eventually have the city trail system extended here.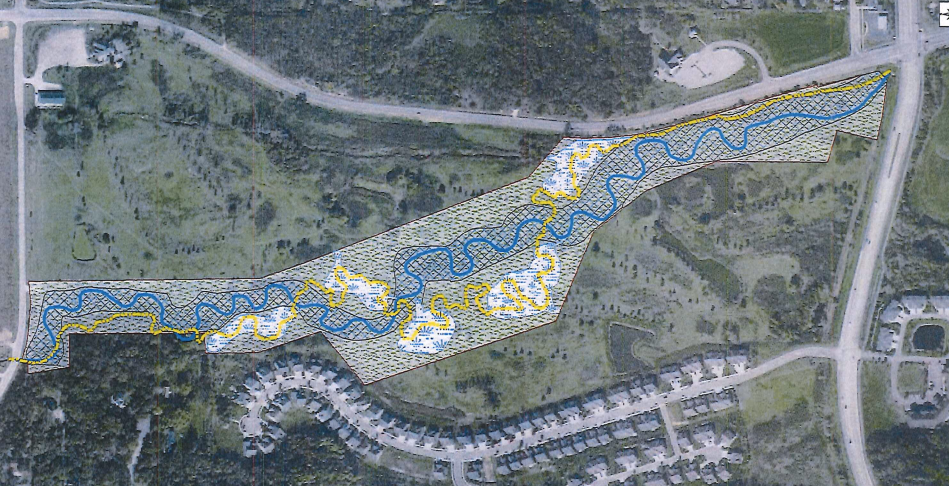 Hard to see in the picture, but the water in the new channel is visibly cleaner than old channel.
The new channel is well constructed and planted to prevent erosion.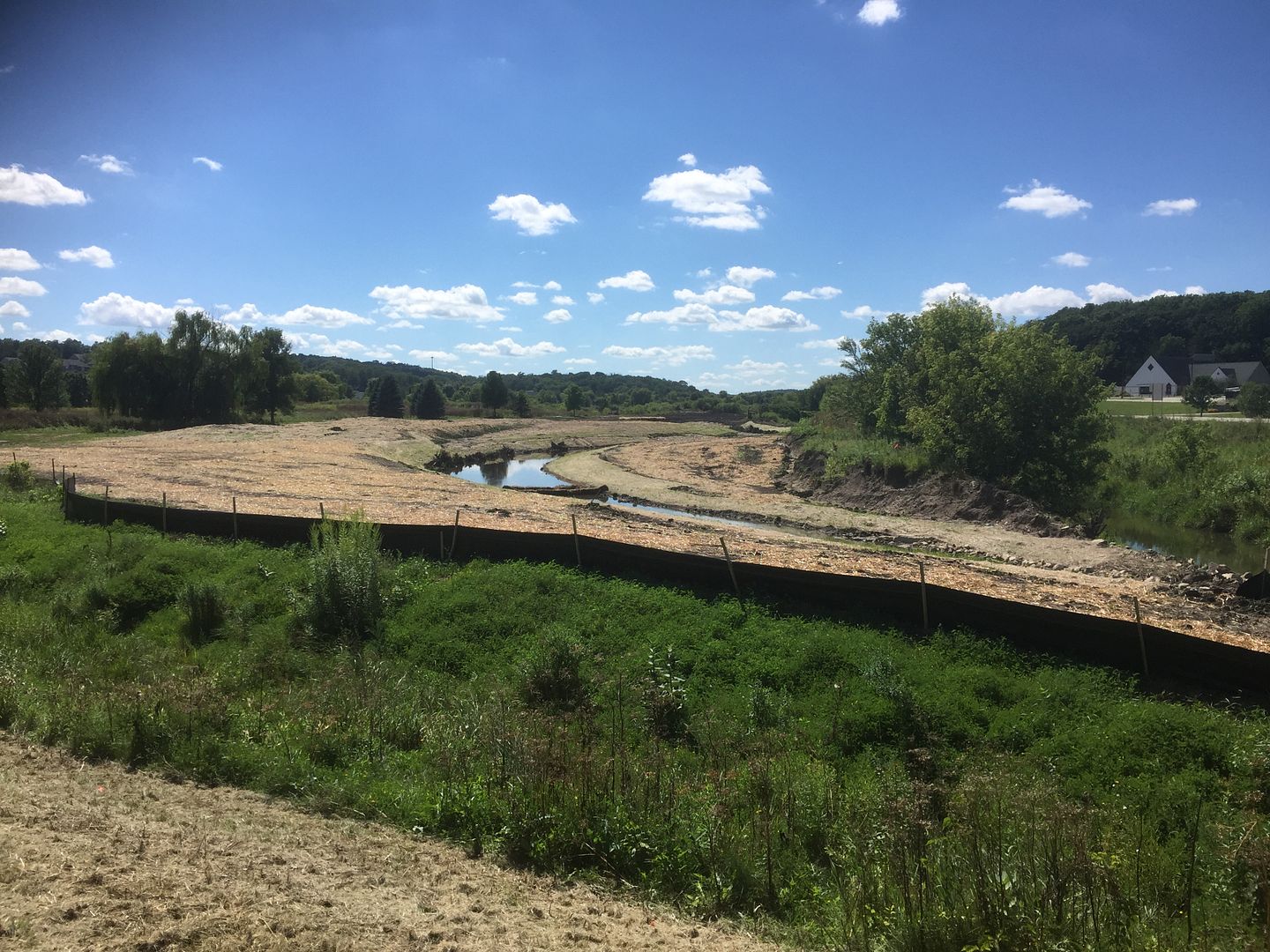 Coming development:
The Northwest portion of the golf has been approved for medium density residential and a little bit of neighborhood commercial at the intersection of County Road 34 & 45th Street SW. I was the one no vote as I thought  special district was more appropriate.
The Southeast corner is more complex and I am not aware of any current plans. There are a number of complicating factors and I recommend a community planning process for this area. There are multiple land owners. Vehicle counts are limited and will require a 2nd connection. This 2nd connection will require a bridge over Cascade Creek. This is expensive. The cost requires many units to support the cost. In addition there are town homes that will have back yard setback concerns. Throw in some private agreements, and future left turn limitations from Berkshire Road onto West Circle Dr and we have a total mess. Probably the only way this gets developed is a grand bargain through a neighborhood scale plan. Unfortunately the planning department does not have the staffing to do this.
Meadow Lakes Town Homes (North of County Road 34):
Since they were first built, these town homes have required an expensive private lift station to feed the gravity sewer. In addition to the work being done on the stream bank, the current work will also allow for these homes to be gravity linked to a different sewer access.
Mike,
You need to correct a couple of mistakes in your "Meadow Lakes" discussion.
1) Interlachen Lake (I don't know about Manorwoods Lake.) was not "built with the stream passing through" it. It was a spring-fed pit. Cascade Creek flowed southeast of it. The old creek bed existed (I have walked in it) until Avalon Cove was developed. Some time in the 1970s or 1980s, Cascade Creek broke through into the pit. Apparently a decision was made (by the city? county?) not to restore the creek to it's original route.
2) Interlachen Lake is not a private lake. Although the land around it is privately owned, now that Cascade Creek flows through it, Interlachen Lake is a public waterway. It's the same situation that occurs all along Cascade Creek. There might be private property on both sides of it, but it is still a public waterway. The was confirmed a couple years ago by the DNR.
Please correct the mistakes so visitors to your web site are not misinformed.
Thank you.
Mike Anderson