This just makes my blood boil. I though the Rochester Arts and Culture Collaborative (link included so you can like their Facebook page) did an great job preparing and presenting a proposal to keep the local arts scene vibrant in Downtown Rochester. It seemed a number of times there were games being played behind the scenes to attempt to derail the proposal.
This was a great project, not only for the Arts community, but also for the numerous cultural groups that were looking for a home. I am saddened by any vision of Rochester or DMC that does not keep our vibrant arts & cultures downtown, I am saddened for the politics that are clearly going on behind the scenes.
I find it particularly interesting that no staff person ever evaluated or make recommendations on the 2 proposals. As it turns out the Mayor and city administrator withheld some pretty important information from the council.
First here is what the city administrator read, at first I thought that someone had told him, but he claims he did this on his own.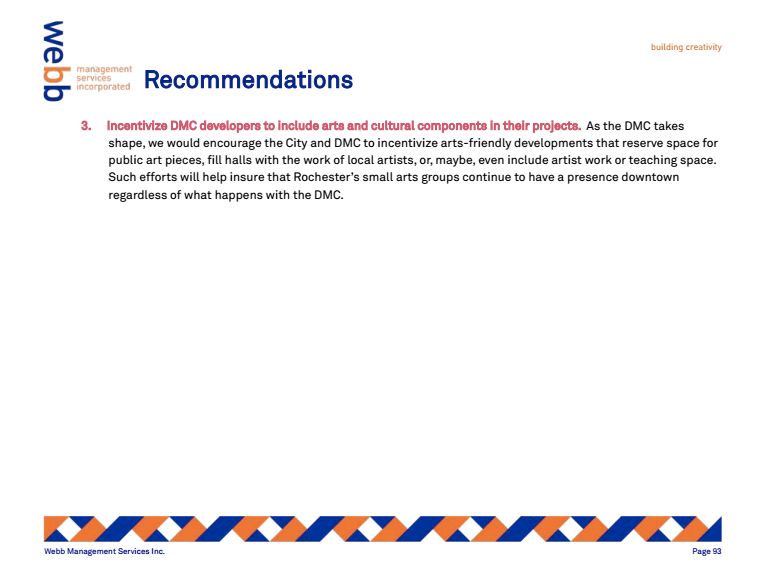 More importantly here is what was withheld by the Mayor and Administrator:
Does this change the discussion? I think so.
I received verification from the city administrator that both he and the Mayor were aware of this. The city administrator acknowledged he should have shared Recommendation #2. Mark Bilderback who had the report, had not yet read it. I think he was also irritated.
So basically arts community, I think Nick & I are pretty supportive, Sandra seemed willing to consider this… Get 4 votes, 5 if the mayor vetoes this. I know many of you in the RACC are disappointed of angry, so take action, write letters, contact elected officials. Don't lose this opportunity. You have assembled an incredible team. I have been and will continue to be there for you.