As we discuss our massive $1.4 Billion unfunded street maintenance liability here is an example of how we can do better with what we have. The city invested heavily in making this former state highway into a great place. We just approved our first redevelopment and more are on there way. These higher land uses will further increase our return on investment. We put about $1.5 million "extra" into this area to make it safer and more attractive.
We are still dealing with issues like making sight lines better. The city took over maintenance of the landscaping July 1, and since then made some changes by Kwik Trip, as the public submits concerns, city staff will continue to check things out.
I have also asked for before and after collision rates. We have had at least 1 serious collision in the district since the completion of the project. It appears sight lines were not an issue on that one, but rather inattentive driving.
Here the red represents added costs to make the district shine and the blue is growth in taxes beyond what would normally be expected.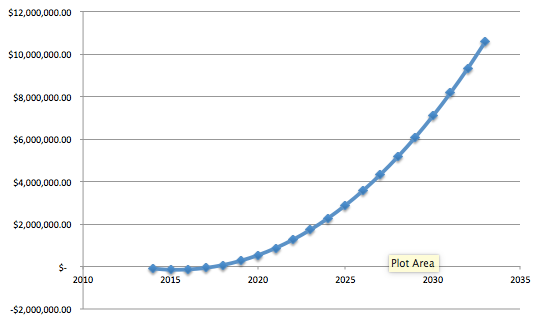 This shows the net Return on Investment over time. It is highly positive and seem to be accelerating. Property values are much higher and redevelopment is happening.