Many small communities in Southeastern Minnesota are happy to have economies like Rochester pay disproportionate taxes to sustain their quality of life but oppose infrastructure investments to keep our economy growing.
Link to MPR report: rochester-twin-cities-rail-line-rural-opposition
Here is some actual data on population and net taxes paid to the state showing the contrast between counties supporting and opposed to zip rail. The data is from 2010. Additionally the rural counties represented by Greg Davids are shown as he has not been a supporter. His 2 counties require a $30 million per year subsidy from the rest of the state. My belief is that the tail should not wag the dog. Minnesota's #2 economy should have low energy, high capacity, high speed connections to Minnesota's #1 economy. Further because MSP is landlocked the greatest return on investment my be the future use of the RST airport as a 3rd terminal rather than spending $15 billion to build a new metro airport.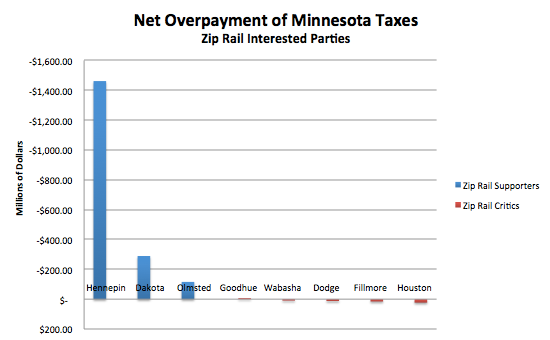 That is hard to see so let's look at per capita data: