Here is a Rochester Public Utilities #ActOnClimate
I don't often post on items that happen in my committee meetings, but I wanted to share something significant that occurred at the RPU meeting(s) today. RPU has 5 directors, 1 of which represents the City Council. As a lifelong energy nerd, that happens to be me.
The meeting got off to a rocky start as we the RPU building was evacuated due to a chemical scent. After an hour of standing around outside, we moved the meetings to the Silver Lake Plant location.  Interestingly I was interested in stopping by the Sierra Club picnic at 6:30, but seeing as I was sitting on a board determining the future of power in Rochester, I figured that they would prefer me to be the RPU board meeting. Sorry Andrea…
Today RPU updated its energy roadmap to show a much cleaner future:
As a result of our SMMPA contract we are on the hook for coal power produced at Sherco 3 until 2030. After that we have no obligation to purchase power from SMMPA, and most likely will not.
The latest roadmap for power production assets has RPU investing heavily in gas turbines and renewable energy over the next 20 years.
In 2031, with the expiration of the SMMPA power purchase obligations, RPU will abandon all energy from coal.
Over the next 20 years the current plan will see RPU add:

50 MW gas packing unit to replace an aged and less efficient unit (Cascade Creek 1)
30 MW combined heat / power gas unit
390 MW combined cycle gas turbine
18.5 MW of Solar PV
150 MW of Wind Power

RPU will voluntarily meet all state environmental standards.
Changes in storage technology, energy demand management, and gas prices could also combine to create an increased case for more renewables.
RPU's only exposure to coal would be on market contracts, but this plan does not require those contracts for now.
Right now we only get 8% capacity credit for solar and 14% for wind, because those resources are not readily available at all times they are needed. However with some minor changes in policy we could significantly increase renewable capacity and shrink gas capacity.
In general this plan will offer competitive energy rates, much cleaner energy, and more production dollars staying in SE Minnesota.
4 different scenarios were analyzed with all 4 basically coming to the same conclusions, but with slightly different timelines.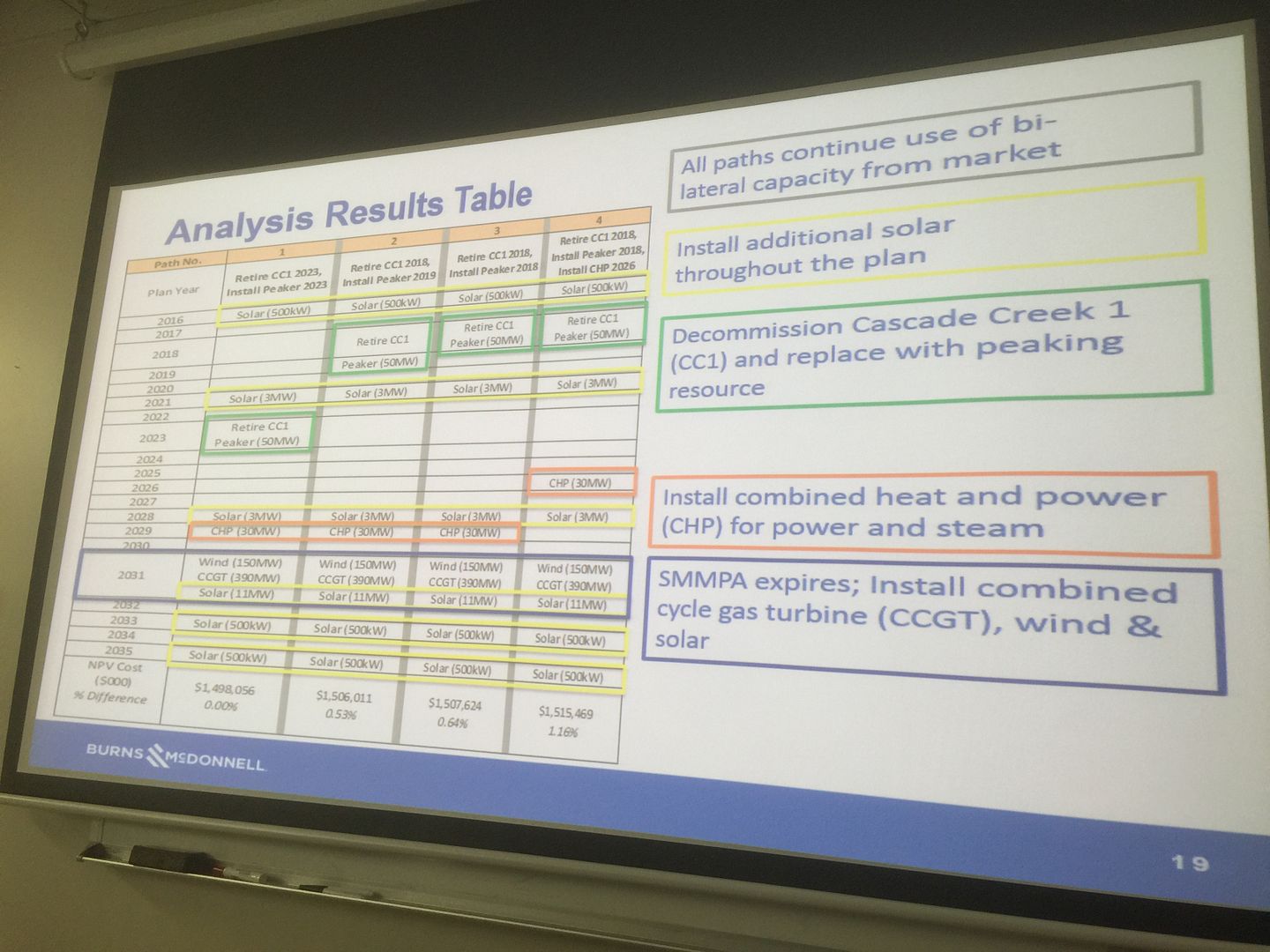 Additionally the numbers for expected demand show that conservation in Rochester has greatly reduced the outlook for needed power into the future. Here you can hopefully see that the expected demand for power went down significantly between the 2012 forecast and the 2015 forecast.
In other actions RPU is working to ensure that we have no unfunded liabilities in our water utility, much like we did in the electric utility last year. A decade of holding rate increases to 0% left us with some issues that now need to be addressed. Both before and after the changes RPU will have some of the lowest water rates in the country.